One of the three great sacred places of hippies. People are kind and forgiving. Is this due to the culture of the country Himalayas are located? Feeling the peaceful
When hearing "Kathmandu", I remember "the world three sacred Hippie places". Though I am not sure, this is still applicable or not, these three places include "Kabul in Afghanistan", "Goa in India" and "Kathmandu in Nepal". At last, I have just visited one of these places, "Kathmandu in Nepal".
I surprised when arriving at the airport in Kathmandu. It looks like a local small airport, not like the airport in the capital of one country. Getting off the airplane by the steps onto the ground, machine to issue the application form for the Visa at immigration has stopped on the way, then person at the airport has told me "Sorry, network is not stable", then input from the beginning. After picking up the luggage and getting out from the exit gate, there were so many people calling to board on the taxi, then remembered an old sweet memory at my younger age.
When hearing the sacred place of Hippie, I remember the 60's counter culture and went to the "Jhhonchen Tole" indicated in the guidebook, it was not busy area at all. According to the local people, this place was assaulted by the police then faded away. He said "It is the story of 50 years ago", then laughed. I have read some guidebook and visited, therefore, please be attention. By the way, "Thamel district" is the area succeeding this "Jhhonchen Tole".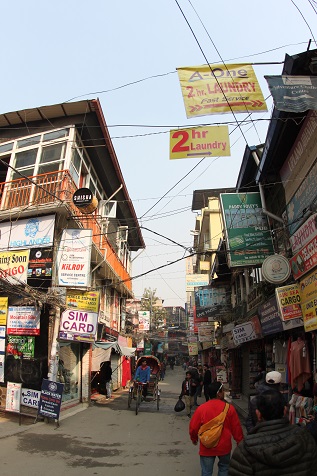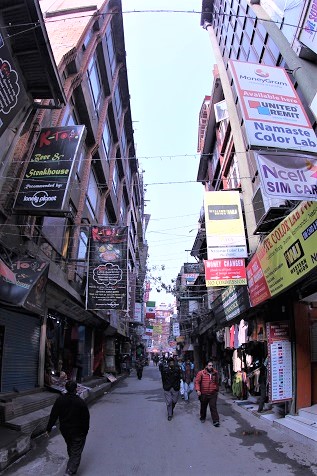 Well, what is the good point in Kathmandu? It is, people are very gentle, kind and tolerant. City itself is very packed and a kind of messy, but no one standing in front of the shop, restaurant and others, calling me. No comment and saying like "come in", "Are you Japanese, aren't you?" When visiting India of neighboring country, this happened frequently and tired, however, there is no case at all in Kathmandu. Personally, it was unexpected, but it was surprising to me.
In addition, it seems to me that there is no culture of intensive pricing negotiation in the shop, though there is a case that item in the shop does not have a pricing tag. I have felt that people do not ask an outrageous price on the item deliberately. This must be related to the above mentioned saying, "people is very gentle, kind and tolerant", but I also have felt that people are basically honest.
Well, Hippie does exist in this place? I have seen the Hippie style of people in the Thamel district where hotel, restaurant, shop gather. However, this is Hippie from the abroad. This Thamel disctrict is the place that tourists to gather, central area is just distance of radius 100m, and can see the Hippie style of people on the street, and I have seen the scene that Hippie style of people play a guitar and sing a song on the street, then starting to have a chat with the walking people on the street.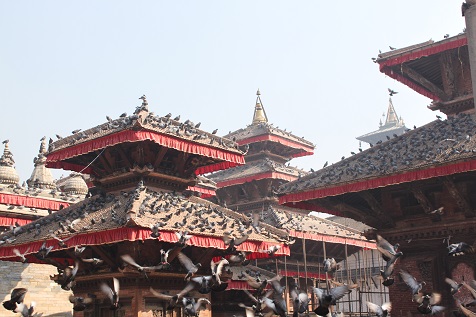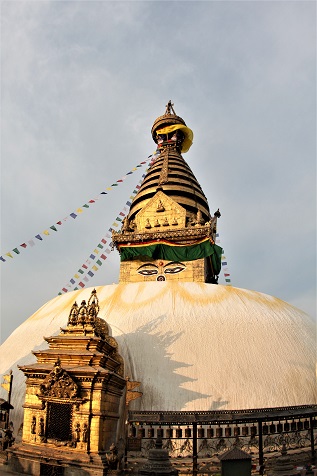 Well, what to do in Katmandu? I recommend very much just to walk around the street in the city. One idea is to visit Buddhist temple, Hindu temple interspersed in the city. Another idea is to visit the store / shop and to have a talk with the people.
By the way, one notice to be made is, main road is always jammed by cars. There is no signal in the intersection, policeman guiding the cars instead, it has taken like 5 minutes to move after car stops in the intersection.
However, I could find the traffic signal in the intersection that is not working. According to the local people, these traffic signals were aided and installed by Japanese government, but there is no support for operation and maintenance, therefore, it is not working. This must be one example that "only hardware provision does not work for the real aid".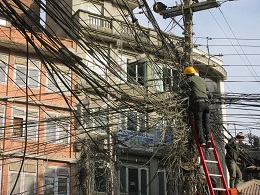 Most of the people in Thamel district speak English. I am wondering why people can speak English, then to ask "Why can you speak English?" Some of them has replied that "It is mandatory condition to speak English on this job". This is related to the fact that one of the major business in Kathmandu is tourism. In Thamel district, there are many policemen or security guards on the street. One local people has explained me, "It is very important for tourism that this disctrict is safe with high security system"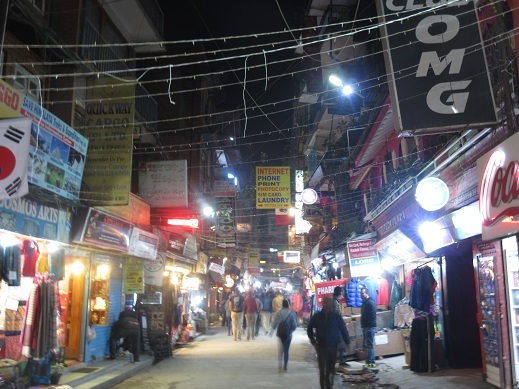 By the way, the atmosphere in Thamel district changes at night time. You can hear the music from the shop around. When getting into one shop like bar lounge, local band was playing. Band was playing the rock music including cover song together with their original song. The most of the cover song was 80's. I have an Hippie image in Kathmandu and therefore, I have a feeling of the image of 60's to 70's, but it shift to 80's.
I guess, rock music like "Red Zeppelin", "Deep Purple", "Jimi Hendrix" was main stream, 10 to 20 years ago. I have visited two bar lounges. In both lounges, visitors were very calm and listen to the music. It was season-off at my visit, the most of the people were local. It was comfortable since I have never experienced this kind of space, Kathmandu's local band playing a foreign 80's rock music, and local Kathmandu's people are listening to the music while drinking an alcohol.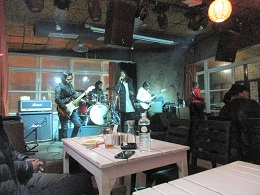 By the way, I have made one question to two people in Kathmandu.
Which neighboring country is important for you, India or China?
Both people of response was the same, "Of course, it is India".

There are people who really like India. I have met with that kind of people, but India was not fit to me, unfortunately. In this sense, I felt that Nepal is also not fit to me, but I have felt that this is comfortable in the soft aspect instead of hard aspect.
I would like to be back again.
Visited in 2019.
Basic Information
​​■ Name of Place : Kathmandu, Nepal
​■ Homepage : https://www.welcomenepal.com/places-to-see/kathmandu.html
(described on Jan 26 2020)