Cusco, the former capital of the Inca Empire. Astonished by the special scenery of the city, walking along the cobblestone road, it becomes difficult to tell whether it is a pisco sour sickness or a sickness in this city.
Cusco is located inner side in Peru. This is ex-capital city of "Inca Imperial". Just hearing "Inca Imperial" and information from the other people how this city is beautiful, I was eager to visit this city.
I got into this city by air from Lima city. Cusco is at 3400m altitude and it will cause the high-mountain disease in case directly flying from Lima at the almost sea level. While arriving at the Cusco airport, I have just forgotten about the high-mountain disease since I have overwhelmed by the atmosphere at the airport and bright sun light outside of the airport.
Airport is old and small, when getting out the airport, taxi driver asking to ride gathered. I have just walked through those people, then found that there is no taxi stand, then asked one taxi driver around. My first impression riding on the taxi, sun shine is bright. I have visited in April; this season is mostly sunny day according to the driver.
After a while after taxi running the street, I have felt to be difficult to breathe and asked driver "How much altitude here is?" Taxi driver responded me immediately, "It is 3397m". It is strange to me that why he could tell me the first unit level.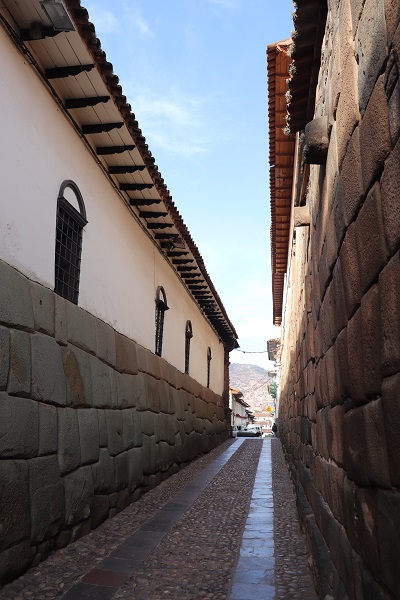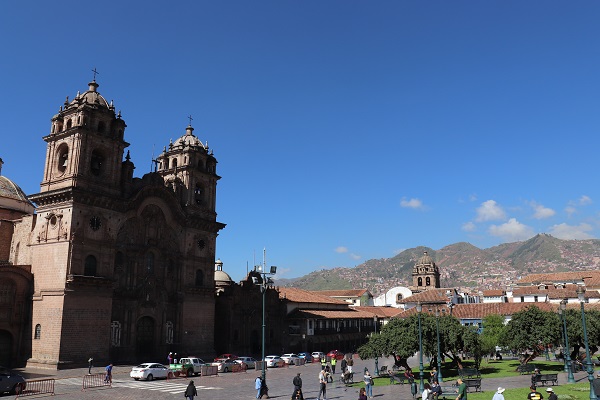 In the most of the city in South America, there is a square in the heart of the city. In Cusco, it is Almas Square. I have just started to walk this city after the dark, heading to the Almas Square, on the stone road, I surprised that I could see many lights on the air surroundings. Its surprise became bigger when arriving at Almas Square and watched around 360 degrees. In addition, many young people were dancing on the road in front of church facing to Almas square. I have recognized that t I have never seen this kind of place before.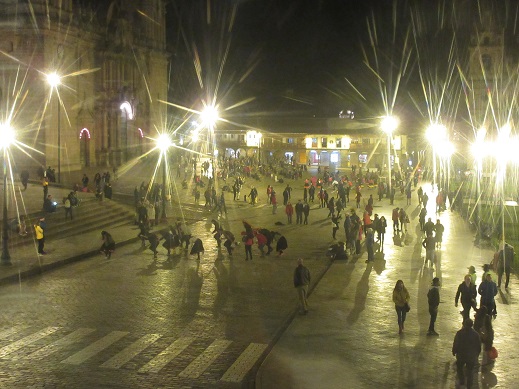 While jumped into the restaurant facing to the square, then watching the square from the 2nd floor. I could find many people gathered in this square and doing as they like, then, description on the fiction by "Garcia Marquez" came to my mind."
In the next morning, I have visited Almas square once again, then found the cause of light on the air. This square is surrounded by the hill, then houses built on the hill. This means that Almas Square is at the bottom of hills surrounded. I have sat down on the bench and enjoyed the landscape I have never seen. It is worth to come to Cusco city just seeing this landscape.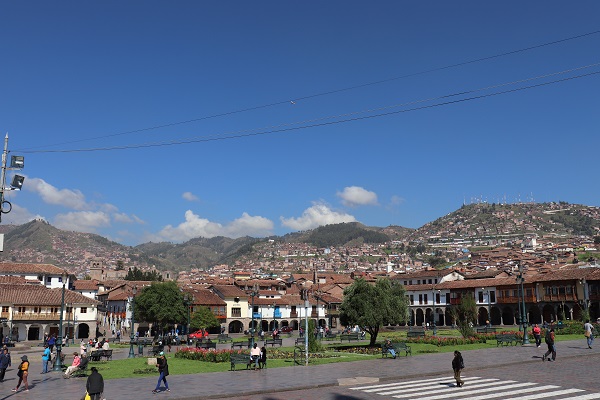 While staying at the bench in the square, one lady to sell a local souvenir has come to my front and said "hello". I, normally, do not react in the most of the cases, but I have reacted this time since it has felt good due to good climate and special place here.
I have talked with her. She has worn local costume and could speak a little English. I have started the conversation with her on my good English, poor Spanish, on her good Spanish, poor English. We have talked more than 30 minutes, it was fun. We have talked the subject, what is going on her life, about ex-President: Fujimori, and my life. Of course, her final purpose is to sell the souvenir she has, but I have felt that it is worth to purchase it due to its very good conversation.
She has respected Fujimori ex-President. He was the person to extinct the terrorist. She said "Children did not become the terrorist any more". Fujimori ex-President is behind the bar as of 2019. I surprised how he is famous.
I have asked the question to approx. 10 people including taxi driver, people on the street, guide, all people knew him. Fujimori was the president approx. 20 years ago. I was also surprised that early 20s people knows him. Please note that some of the people had a negative comment on him.
What to do in Cusco finally? My answer is just walk around the Almas Square and surrounding area. I guess, in case you are the beginner in South America, you can feel something different. By the way, the "12-sided stone", which is known to many as "not even a single razor blade" in the stone architecture of Inca, is about 200 meters from Almas square. It is a wall along an ordinary cobblestone road, where people pass by unnoticed otherwise people stands.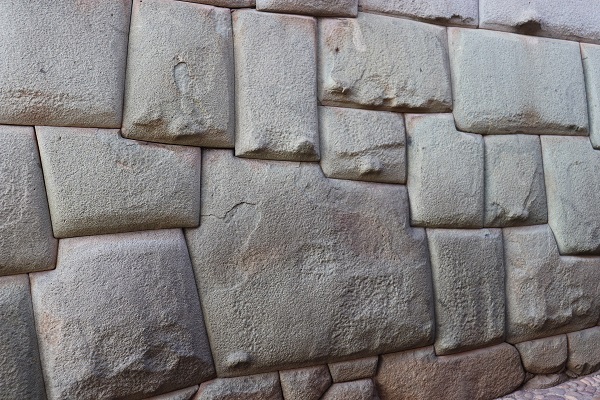 As for the special geographical shape, just seeing the whole city view from the higher location, I recommend to visit "Sacsayhuaman". There is a point here to overview the whole city of Cusco. I have dazzled this view and could not leave its location for one hour.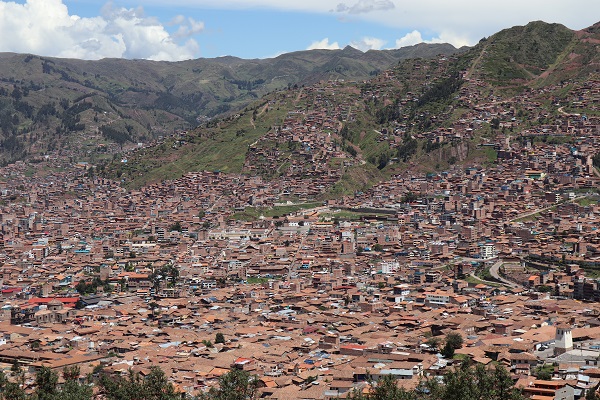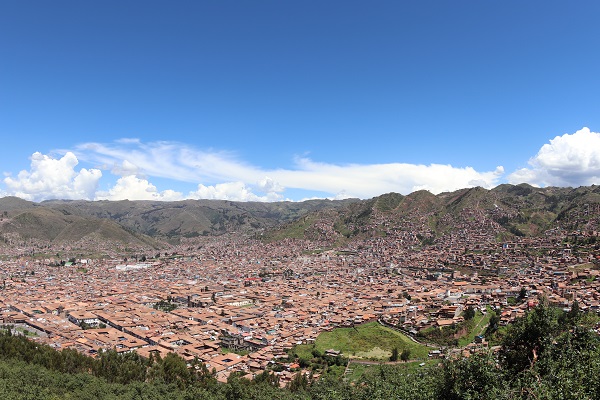 By the way, as for the high-mountain disease, I have felt that my foot became heavy and my breath became faster on the 2nd day in this Cusco city, but it was not critical fortunately. I have an experience to visit Lhasa in Tibet located at 3700m altitude. At that time, I could not sleep at night. In addition, I have fainted after drinking alcohol a lot. At this time of visit in Cusco, I have recognized that one solution is to get into Cusco from Lima by bus to be used to high altitude gradually. However, I got into Cusco by air for saving time.
I have made two countermeasures. The first one is to get into Peru via Mexico City. Mexico City is at 2250m altitude. I have considered that even if a couple of hours in Mexico City for transit, my body must be used to high altitude as the intermission point. 
Another countermeasure, to be frequently said, to have the Dynamox. I have subscripted the Dynamox in Japan and got one day before getting into Cusco. It is not clear that Dynamox has affected or not, but guessing there is an effect in the spiritual point of view.
By the way, alcohol is better to minimize. I have drunk "Pisco Sour" at the latter part of my stay and became my favorite, then be about to start to drink a lot, but refrained by the bad memory in Lhasa, Tibet.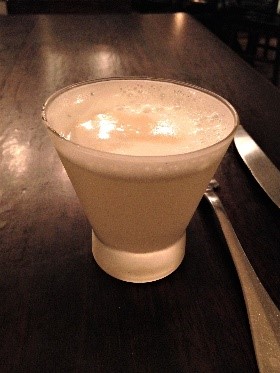 One more tip, regarding the transportation in the city, basic stance is by walking, but in case going to a little far place, I recommend to use Uber. In this place, but in general in South America city, Uber was helpful. In Cusco, no driver spoke English, but language is not required in Uber riding. While, Uber driver react to my poor Spanish and it was fun.
Visited in 2019.
​Basic Information
​​■ Name of Place : Cusco, Peru
​■ Homepage : City of Cuzco, UNESCO
https://whc.unesco.org/en/list/273/
(described on Nov 28 2020)